23949 Tecate Mission Rd
Building 3
Tecate, CA 91980
CATEGORIES & HEADINGSdetails >>
Army, CBS, GE, Intel & 1000s More Use Our Professional Workbench. WE MANUFACTURE AND WE SELL DIRECT.

BenchPro? manufactures America's finest workbenches; everything from economy to premium designs for defense and military, aerospace, cleanroom laboratory, electronic production, industrial, bio-chemical environments, plus carts and seating.

BenchPro? offers from 1,000 lb to 20,000 lb capacity workbench with ESD / Static Control, Formica, Class 100 Cleanroom, stainless steel, chemical resistant, self healing sign top, Butcher Block, Hydraulic-Lift tables, electronic tech-bench and many more with 10-year unconditional warranty.

BenchPro industrial workstation integrate the worker, environment, and the job to be done. Workers are more productive with less stress and strain on their body, even more so when combined with our ergonomic chairs. Industry is rapidly adopting the need to provide as safe an environment as possible for employees. Workplace safety has evolved to include the new ergonomic dynamic to avoid future injuries caused by what OSHA identifies as "signal risk factors". BenchPro products engineered to increase employee productivity, lower employee fatigue and reduce the incident of Repetitive Motion Injury - benefits of ergonomic workbench design.
Vendor Showcase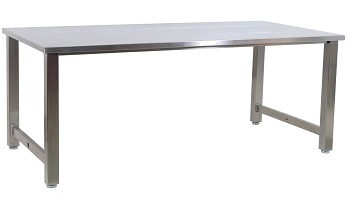 BenchPro Class 1 Cleanroom Grade 304 Stainless Steel Workbench comes with various accessories such as caster, bottom shelf, top shelf, stainless drawer sets, built-in power strip, bin rail, light fixtures and many more. We can manufacture any sizes in metric and inches in 7 business days. Table is capable to carry more than 5,000 lb equally distributed weight. Product comes with 25-year Unconditional Warranty. Ship from San Diego, FOB Tecate, CA. read more